Say Hello to Rady Children's 2021 Local Champion, Zainab!
Rady Children's Hospital Foundation proudly introduces, Zainab, our 2021 Children's Miracle Network Local Champion.
Zainab was diagnosed with B-Cell Leukemia at only 3 years old after her mom noticed her unusually low energy. She immediately started chemotherapy treatments and had to remain in the hospital for 30 days.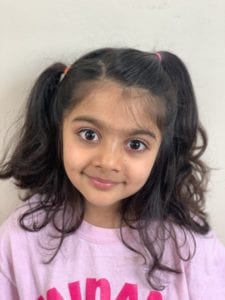 Zainab successfully finished treatment in August 2019 with a celebration in one of the healing gardens at Rady Children's. She is now an outgoing, 7-year-old who always manages to be the center of attention. Zainab loves learning at school, chatting with her friends and playing Pokémon. You'll catch her singing along with the radio, reading a book on a couch or immersed in an art project – especially if it involves glitter!
Check out this TikTok video to hear from Zainab herself to see how she is thriving today and what she is looking forward to in 2021.