Rady Children's patient, Camden special guest at TwitchCon
Camden, treated at Rady Children's Hospital, was in gaming heaven as CMN Hospital's special guest at TwitchCon in San Diego this past weekend. It's kids like him that Extra Life supports every day of the year. Highlights from his day:
Camden's Story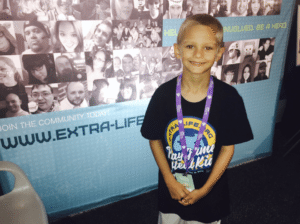 In early 2015, our son Camden had sporadic pain in his right hip. After several visits and consultations with his pediatrician, we decided to do an MRI which showed a suspicious mass in and around his sacrum. We checked into Rady Children's Hospital in July of 2015 just after his 7th birthday for additional testing and sadly learned that Camden was diagnosed with Ewings Sarcoma, a rare form of bone cancer. Camden is now in his 11th month of a very challenging treatment program, that has included radiation and 17 rounds of chemo (typically 5 days a piece), and way too many hospital stays.
We were beyond sad for our little buddy, but we knew he would prove to be much stronger than we could have ever imagined! Camden is a very sweet, caring, energetic and fun-loving boy and we know these traits will help him through this most challenging time. Our entire family is so blessed to be surrounded by so much love and to have such wonderful family, friends and medical staff in Camden's corner and supporting all of us – we find strength in this, which we are most definitely passing along to Camden and his sister Avery (9).
We are staying positive and strong and know in our hearts that Camden will beat this! With only a few weeks more to go in his treatment plan, Camden is looking forward to what his future holds. While it appears that Camden is heading in the right direction, there are many other children battling cancer who are not as fortunate. These children who are, or will be, facing this terrible disease do not deserve what they have to go through. We can all play a role in bringing some joy to these children and their families during the treatment process. We can also all do our part in helping to find a cure.
Thank you again for your love, prayers and words of encouragement – these mean more us than you realize!
Scott, Tracey, big sister Avery and our little trooper Camden