San Diego State University Senior Natalie Gaharan Receives 2021 Miracle Network Dance Marathon Distinguished Leadership Award
From the thousands of graduating seniors who have participated in Miracle Network Dance Marathon at the approximately 400 colleges, universities, and high schools across the U.S. and Canada, 27 students were selected to receive the 2021 Miracle Network Dance Marathon Distinguished Leadership Award for making an exceptional impact within their Dance Marathon program, on their individual campus, and for their local Children's Miracle Network Hospital. To see all of this year's recipients, click here.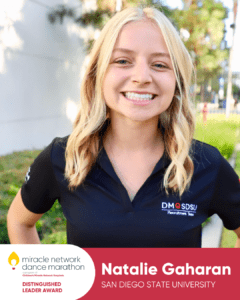 Hometown: Palmdale, California
Degree(s): Bachelor of Science in Kinesiology
Dance Marathon Involvement: 
Sophomore Year: attended Dance Marathon as a first-time participant and as a volunteer
Junior Year: Served as a Recruitment Team Member
Senior Year: Vice President of Financial Affairs
Campus/Community Involvement: 
Member of the Newman Center (religious organization) (3.5 years)
Member of SDSU Future Physical Therapists Organization (3.5 years)
Vice President of SDSU Waterski and Wakeboard Team (3 years)
Western Region's National Collegiate Waterski Association Athlete's Advisory Council (2 years)
Aztec Night Programmer (1 year)
Member of BURRITO BOYZ (1 year)
 Awards/Recognition: 
Maintained Status of being a Dean's List Student throughout all of college (GPA of 3.5 or higher)
Current Vice President of the SDSU Waterski and Wakeboard club team when we received Sport Club of the Year and placed 6th place at Nationals (highest placement since 1979)
First physical therapy aide to be hired as a sophomore at the out-patient clinic at which she worked
Post-Graduation Plans:
Natalie will be attending San Diego State University's Doctorate of Physical Therapy three-year program beginning in June 2021. Once completed, she plans to pursue her dream career as an in-patient physical therapist specializing in neuromuscular care at a Children's Miracle Network Hospitals.
What is your proudest accomplishment from your involvement in Dance Marathon?
"My proudest accomplishment was our fundraising push day during our Miracle Week in October. This push day was held a few days after educating and recruiting. The night before, I put on our first-ever 'Light of Hope Ceremony.' The link to our blog post is here. This night kicked off the start of our huge push day. We shared our WHYs, had guests from the hospital, and shared stories of the many kids we fight for. Our President of SDSU attended our zoom event, which was new and exciting for everyone. This Light of Hope Ceremony was exactly what we needed to start our biggest goal for a single day of $40,000. The amount of engagement was truly miraculous to see and by the end of the day, we raised a total of $53,756.96. This marked the largest amount ever raised in a single day for Dance Marathon at SDSU. To say all the zoom calls and emails that went behind this day were worth it is an understatement. This is my proudest accomplishment because every single board member also emphasized how proud they were, and that is what Vice Presidents are for. I am proud to spend countless hours behind the scenes if it will give the amount of joy I saw on everyone's faces when we revealed that we raised over 53k in one day!"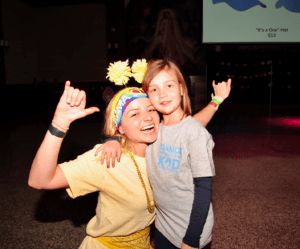 How has Dance Marathon impacted you as a student leader? What specific skills have you developed during your involvement?
"The Vice President of Finance helped me grow as a leader and as an individual. It has shaped my professionalism and how I handle daily life situations. This position gave me hope during a year filled with much despair. This position taught me how to handle stressful situations. For instance, I was in charge of the first welcome back event that Dance Marathon puts on for all new students. However, for this year, I was thrown every curve ball one can imagine. 'Oh, your event is in person, oh no it is hybrid, actually, it is 100% online.' That ran in circles all summer long and I had a team depending on me. I finally took a realistic step back and created teams with tasks to create a 100% online event and budget and a team with tasks to create a hybrid event and budget. This initiated the root of how well my communication skills have improved since starting this leadership role. Dance Marathon has taught me the importance of thinking about mental health and how much team members value true transparency. This year brought so much despair for so many, so it was important to look into what each team member was going through before assigning a task. This took honesty and transparency, but in the end, it created the team I always wished for."
Why do you, personally, participate in Dance Marathon?
"I dance for my cousin Cece. Cece has cerebral palsy and epilepsy. Growing up with a cousin who is my age made me realize the severity of what Cece had to go through. In 5th grade, I had my first slow dance, while Cece had brain surgery. In 9th grade, I attended my first football game, while Cece had a blood clot. In 12th grade, I got accepted into college, while Cece was teased by classmates for not having equal-sized legs. Cerebral palsy and epilepsy have impacted Cece's life from the beginning. I have learned from a personal experience early on that kids not only deserve better, but they do also not deserve this. Since joining this movement, there have only been additions to my WHY: Madi who was taken away from us at age 13, Gideon who battled leukemia for half of his life, Reese who had major heart surgery before she could even speak, and so many more. I participate in Dance Marathons because kids deserve to live the life they want to live. Kids should never have to celebrate birthdays in the hospital. Kids should never have to know that they might die. I participate in Dance Marathon because I will always advocate for pediatric health and awareness, however, I also participate because these kids inspire and motivate me like no other."
Why should students get involved with Miracle Network Dance Marathon on their campus?
"Students should get involved with Miracle Network Dance Marathons because these programs truly shape future career paths and carve out how you want to pursue your four years of college. I initially got involved with Dance Marathon for the social aspect – who wouldn't want to attend a 15-hour dancing event all night long with your friends?! However, once I became more involved, I realized that Dance Marathon gave me a purpose. I strongly believe that if everyone at least tried to attend one Dance Marathon event, then this world and college communities would be a better place. The positivity and engagement from students that attend Dance Marathon at SDSU inspire me to always push myself and to keep working. The number of family stories and successful students I was surrounded with motivated me to do so many things that I did not have intentions for when first stepping on campus, and I am forever grateful for that. This is why students should get involved with Dance Marathons, they will find their belonging and be pushed to new limits that were never envisioned."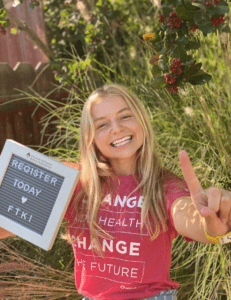 Why should people donate to their local Children's Miracle Network Hospitals?
"People should fundraise for their local Children's Miracle Network Hospitals. I believe they need to. People need to fundraise because our kids need us. Universal healthcare does not cover specialty services that children at Children's Miracle Network Hospitals need. This year has truly taught everyone the impact of mental health awareness and these sick kids are missing out on significant events in their life like birthdays. The least these kids deserve are fun toys and rooms to keep them company. These kids need toys to explain their treatment, art therapy, wagons instead of wheelchairs, and so much more. Not all insurance companies cover the entire cost of care. Childhood illnesses, disorders, and diseases are so much more common than one may think. Everyone involved with Dance Marathon programs has the following line memorized: 62 children enter a Children's Miracle Network Hospital every minute. We say this line so often, but I believe it is vital to take a step back from the busy work and truly realize how many children are affected. People should fundraise for these kids because it not only gives kids hope and a chance to have another birthday, it gives that individual hope and the chance to gain a new purpose in life."
---
Miracle Network Dance Marathon is an international movement, involving over 400 colleges, universities, and K-12 schools across North America that fundraise for their local Children's Miracle Network Hospitals. These students work tirelessly throughout the year to raise funds one dollar at a time by making the ask to family and friends. Their hard work culminates in a 6-40 hour celebration on their campus, where participants have the opportunity to rally together as a community for their local Children's Miracle Network Hospital. Students involved in Dance Marathon gain valuable skills in fundraising, peer management, delegation, and philanthropy. Miracle Network Dance Marathon programs have collectively raised more than $300 million since 1991.
Learn more about Miracle Network Dance Marathon: